I am a HUGE fan of brainstorming starter packs because I think it helps people express themselves in fun and creative ways. For example, here's my starter pack: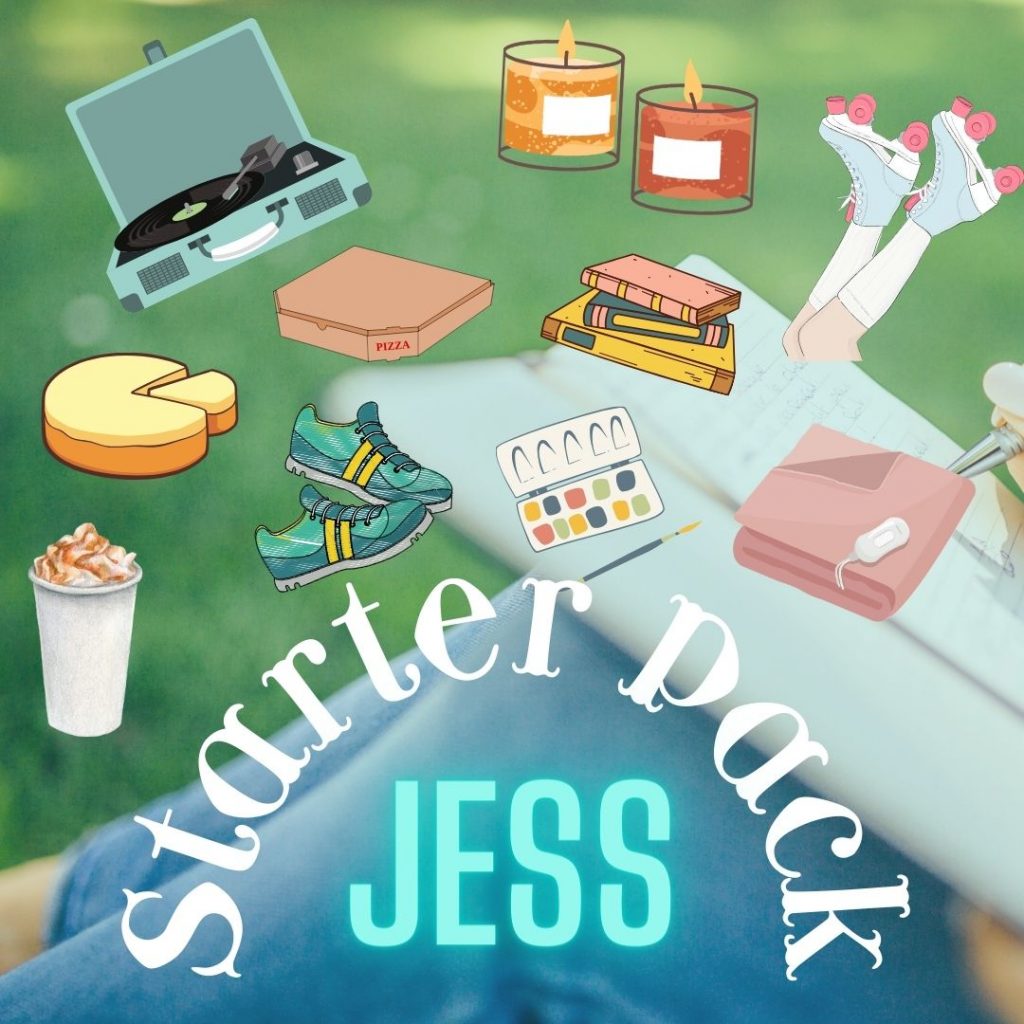 The basic starter pack includes a heated blanket, two signed Night Traveler records + a record player I can take on the go, a hot chai latte, paint and too many unfinished books, Domino's pizza, cheesecake, wood wick candles and roller blades.
Expansion packs include but are not limited to:
"Let's Go Dating!" Includes a Chipotle booth, an awkward chaperone, a burrito and a salad bowl, plus awkward first real-date feelings. ALSO you'll get a coupon for .2% OFF Dan's Starter Pack
"Career Woman Beginnings" includes a dingy blue laptop named Beatrix, a black and white shoulder backpack that everything regularly falls out of, hand-me-down jean skirts and fifteen composition books.
"The Growing Family Pack" includes 15% OFF the "Dan Becomes a Daddy Pack" plus a tiny child and plenty of growth opportunity for a greater ROI on my toddler's life.
You can also get my first car, a little red coupe named Ruby in my let's actually start my life now set. All of the best parts are sold separately.
This is Dan's Starter Pack: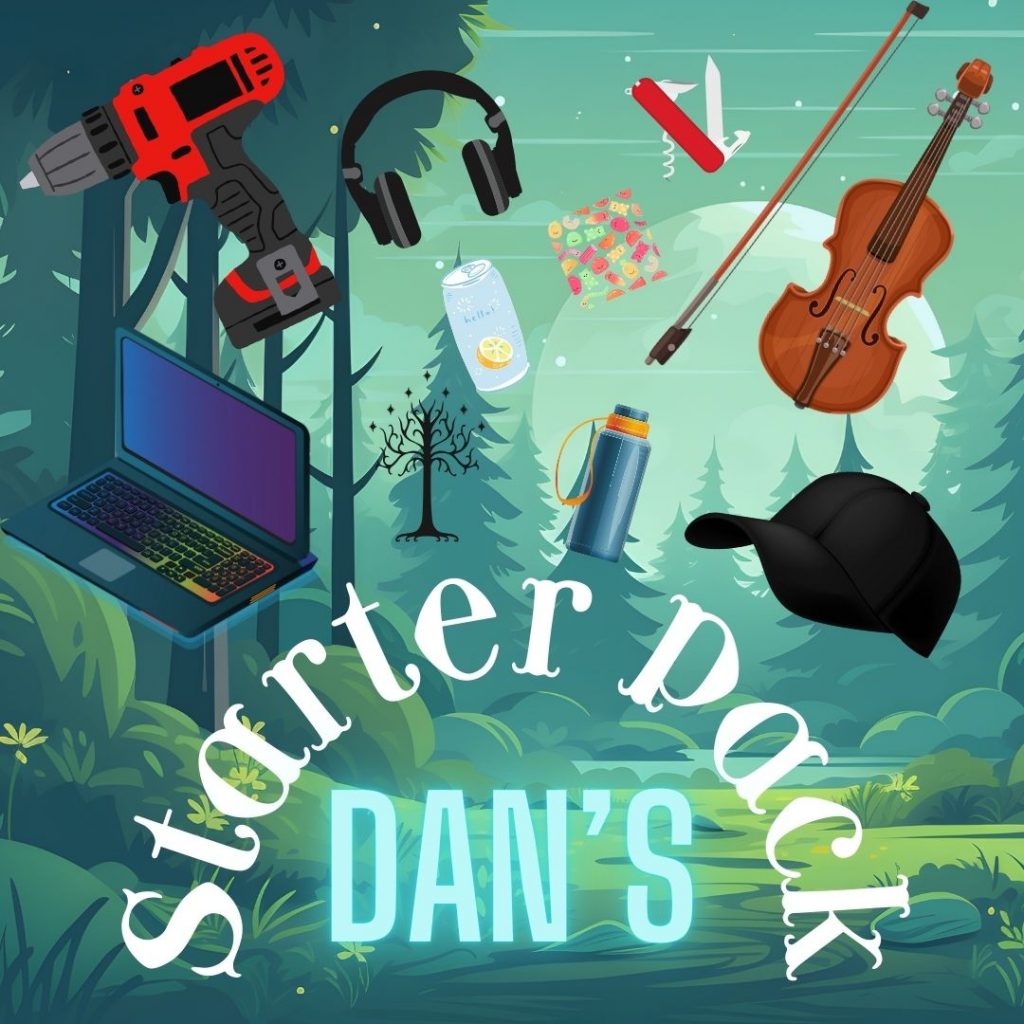 Laptop, Bluetooth headphones, a ballcap, a thermos, a carbon fiber violin, Welches fruit gummies, a drill, a Swiss Army Knife, and, of course, sparkling water. Oh, and we can't forget the LOTR Fandom special item in each starter pack. (It's a surprise till you purchase, but the options are a Faramir costume vest, a Rohan flag, a boxed set of LOTR books, or artwork from the movie.)
At some point tonight (things are floating, yo), I decided I wanted to piece together some Christian Influencer Starter Packs. You know, for fun.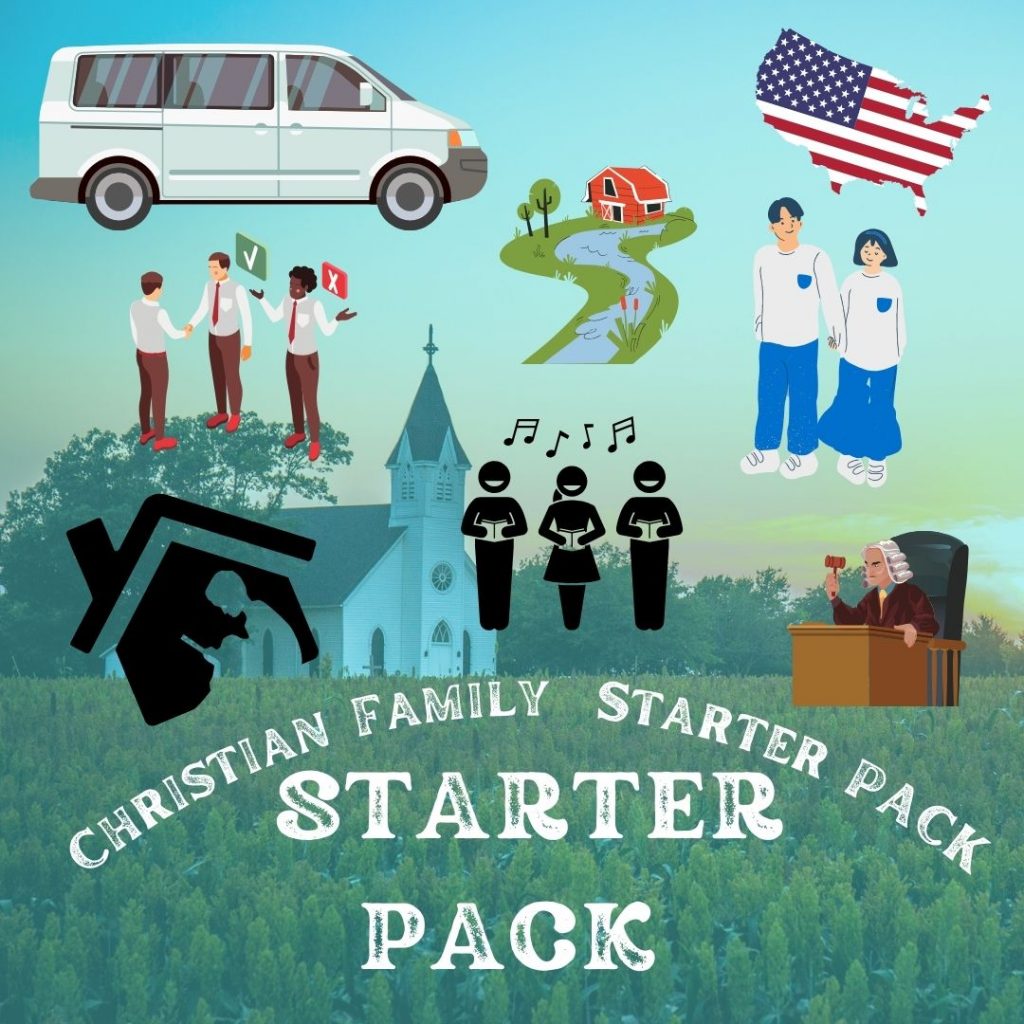 The Christian Family Influencer Starter Pack contains:
Lots of matching outfits for up to 19 children add-ons, mild southern racism that sounds like white people not taking responsibility, a chorus of the children's voices singing in harmony that you'll be sure to make a pretty penny on, plenty of judgment and pity for those not fortunate enough to be living out of the wickedness of their own sin (they know better, they're definitely going to hell and we should pity them and try to minister to them vibes), a house in the backwoods, back roads, middle of nowhere. And if it's not in the middle of nowhere, instructions will be provided to you to pretend like you are so you don't have to meet anyone or socialize. The starter pack also contains a complete dedication to the American Conservative cause and plenty of Trump stickers and t-shirts to go around amongst the kids.
And last but not least, the big white van. Are you even a large, Christian homeschool family with a deep yearning for Jesus if you don't have a 15-passenger white van? This starter pack thinks otherwise.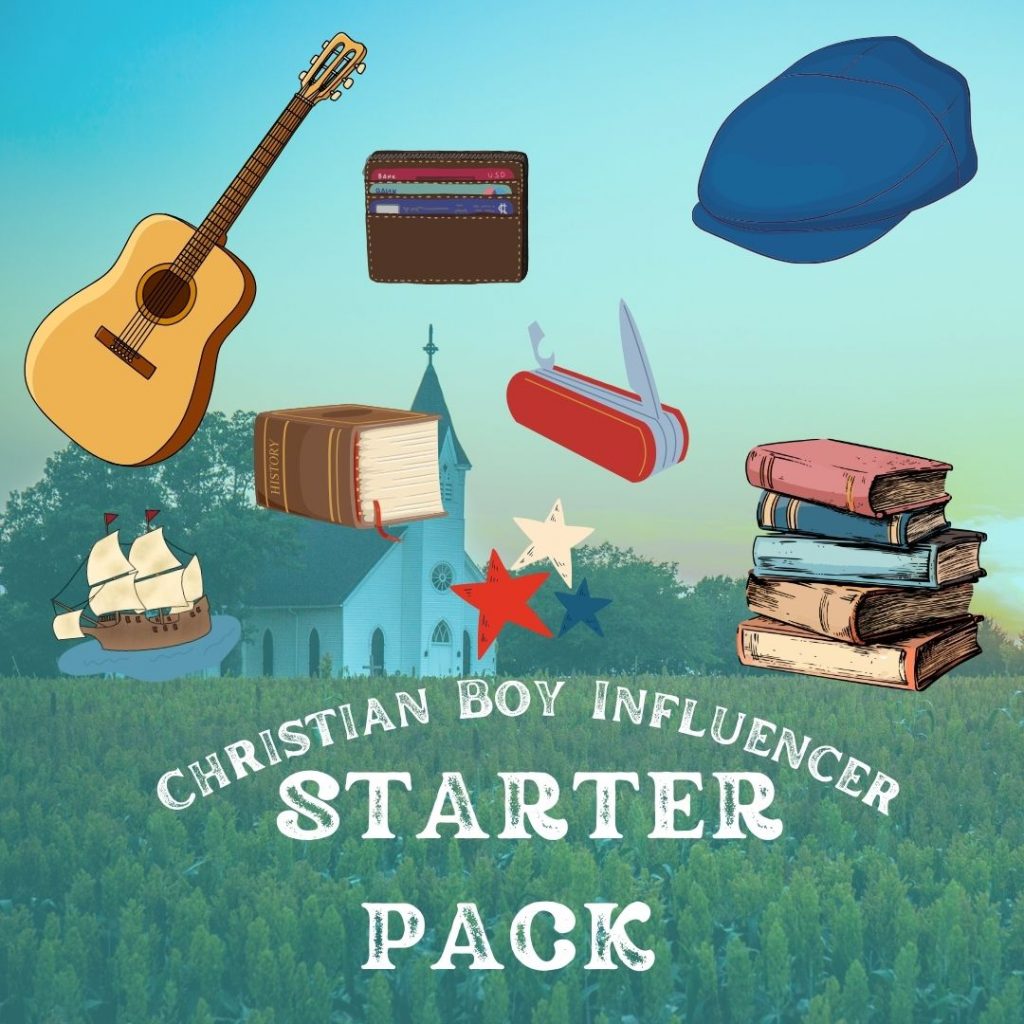 This incredibly prestigious and adventurous starter pack includes a pile of books, but specifically Christian relationship books about se* and the Institutes of Biblical Law, a pocket knife, a deep fascination with European history and the Titanic and/or Birkenhead, a love for God and country that is unmistakable, guitar and/or drums and a leather wallet.
Extension packs include codependency, living out of mom and dad's basement writing papers, and utilizing the family van for political rallies and WWII reenactments.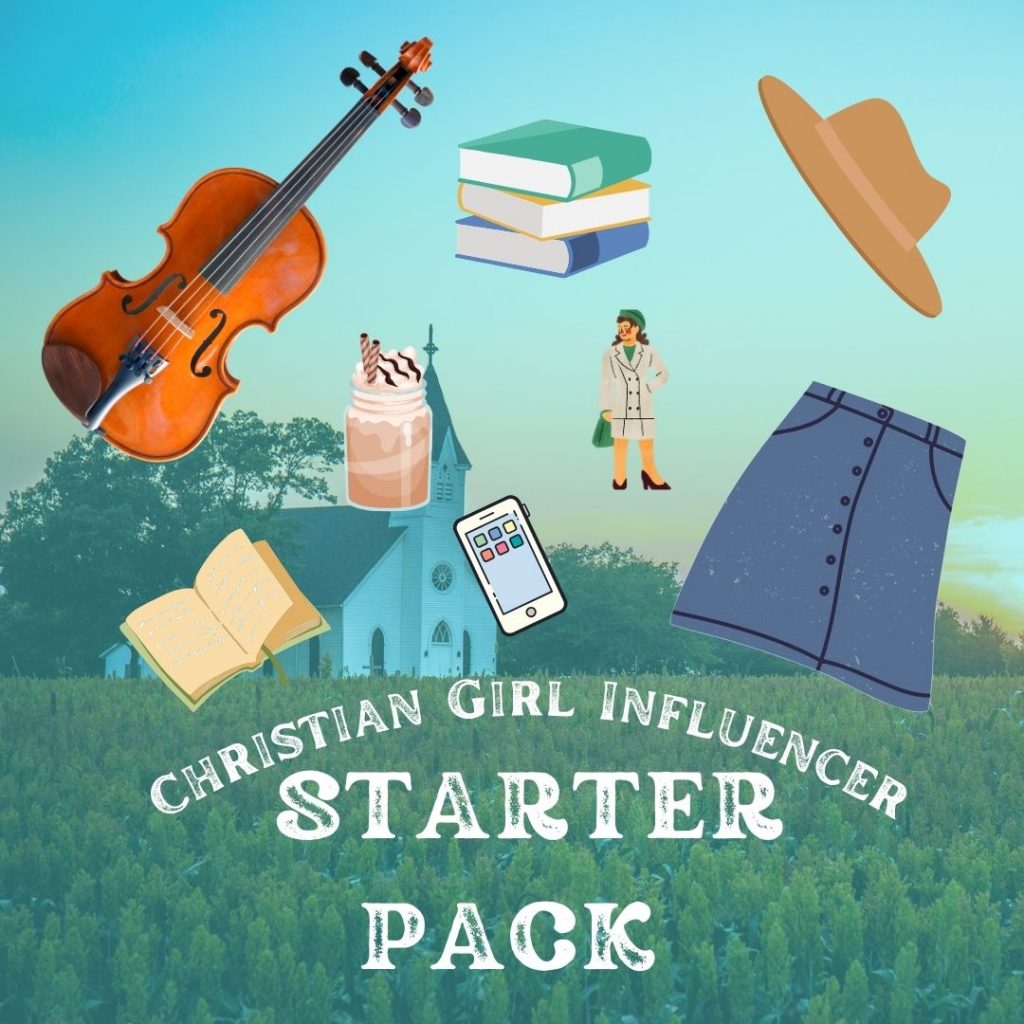 This faithful, meek, quiet and gentle starter pack includes a long denim skirt so he can't see her knees, a very marked-up Bible and Bible journal, a perfectly curated Instagram feed in varying shades of beige, iced coffee in a mason jar, a violin, a stack of books that exist for the photo only (and the books don't matter just as long as they're Christian), plenty of historical costumes for reenactments and romanticizing the past, and finally, the notorious brown velvet hat. May they never see your hair under that crowning influencer diamond.
What's in YOUR starter pack? Let me know. 👇